Bathroom lighting is not to be overlooked, it will add functionality and appeal to any space when done correctly.  Let your bathroom shine and bask in its glow.
Our bathroom is a place of refuge after a long day, a place of tasks to maintain our physical appearance, cleaning, washing the kids, the list goes on.  Bathroom lighting plays a major role in how we perform these tasks.  I speak to the experts at Geelong's Sonic Lighting on the best ways to incorporate lighting within your bathroom.
Why is bathroom lighting important?
Our bathrooms are no longer "just a bathroom", we spend time and money creating luxurious bathrooms and good lighting design is crucial to ensuring your bathroom is functional but looks amazing and reflects individual design elements within.
Bathrooms are where we do very detailed and important work such as shaving or applying makeup but also where we look to reinvigorate ourselves with a relaxing bath.
It's also the first place we see ourselves in the morning and the last place we see ourselves at night , it's important to get the lighting right.

Above:  Image via Pinterest
What are your top tips on selecting lighting for a bathroom?
Our top tips for creating great lighting within your bathroom are:
Consult a lighting designer
They will look at the overall design to determine the amount and placement of lighting needed for your bathroom.
Layer the lighting
You should never have just one source of light in a bathroom:
Add task lighting to provide adequate mirror lighting for daily chores, such as applying makeup and shaving
Add general ceiling lighting to provide adequate lighting to shower areas and for general illumination
Add ambient lighting to highlight design elements within the room. LED strip lighting is great for providing a glow under shelves or vanities.
Add decorative eye-catching pendants from the ceiling, it gives your bathroom personality and adds a layer of luxury
Add different lighting levels by using dimmers and zoned lighting.  Your lighting needs to be flexible and adjust to a variety of uses. Creating different lighting levels give you bright light when required, creates soft lighting for a relaxing soak in the bath, or safely illuminates middle of the night trips to the bathroom.

Above:  Hidden LED strips, image via Pinterest
What is trending in bathroom lighting right now?
The biggest two trends in bathroom lighting are the addition of decorative pendants to create the WOW factor and LED strip lighting to create a soft glow to design elements.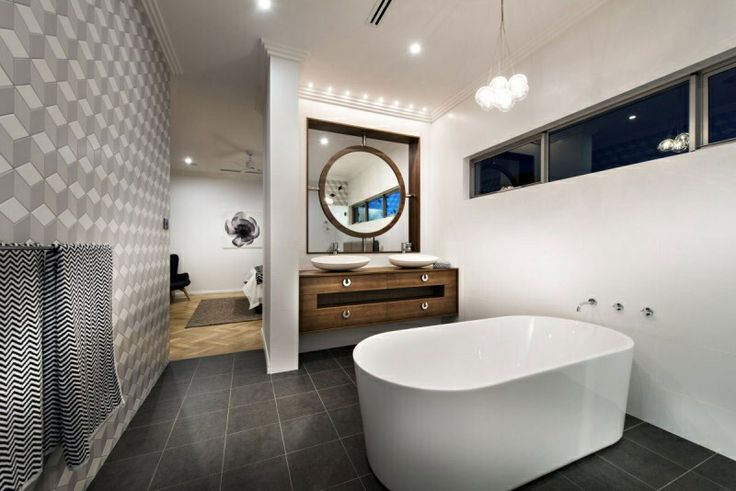 Above:  Decorative pendants, image via Pinterest

Above:  LED strip lighting under mirror and glass pendants, image via Pinterest
As house hold expenses increase, energy efficiency is a priority to home owners. What's your advice on selecting energy efficient lighting?
Australians have embraced the need for energy efficiency in our homes and the lighting market has presented consumers with a wide range of energy efficient lighting products.
For many years we installed low voltage down lights in our homes.  You can update these fittings by installing LED globes however, you need to make sure your LED globes are compatible with transformers and dimmers.  Also check that the LED globes give you the same level of light output as achieved by your existing globe.  Updating all light globes around your home can help reduce energy consumption.  Bring your existing globe into Sonic and we can help you choose a replacement .

Above:  Energy efficient LED downlights, image via Pinterest
Are their any new innovative products or trends coming our way that we should look out for?
One great idea for bathrooms and toilets is a small LED night light.  These small lights can be recessed at low level along walls, placed on a day/night sensor they automatically come on at dusk and turn off at dawn.

Above:  Image via Pinterest
Just one LED night light in a toilet and bathroom means you have enough light for those middle of the night trips to the bathroom.
This idea can be used throughout your whole home.  With careful placement along hallways, in toilets and bathrooms you have a very slow level of illumination all night.
Be inspired with Sonic Lighting on Pinterest and Facebook.
By Hayley Norman
About Sonic Lighting
Sonic Lighting is based in North Geelong providing expertise in lighting design, consultancy, trade and wholesale supply.
They bring together your lighting requirements with their experience in commercial and residential design, extensive technical knowledge and commitment to providing quality lighting outcomes.
At Sonic they pride themselves on establishing an ease of communication between client, architect and tradespeople, ensuring empathy and expertise to achieve successful fulfillment of lighting projects.  Combine this with after sales service and you will find that Sonic can offer you a complete lighting solution for your commercial, retail and residential projects.
They are direct Australian importers and distributors for Arkos Light, One Lighting Group , One plus and Santa & Cole.
TILE junket showcase the best tile products available in Australia from around the globe.  Book your complimentary CONCEPT CONSULT with our Design Team to achieve the best results for your tile project.