Moroccan is colourful and full of pattern where as French style is simple and elegant.  The combination of the two is magical!
This week's showroom table is inspired by a section in this issue of Bathroom Yearbook, "French Style, Moroccan Flavour".  I used simple white and cream tiles complimented by the powerful Moroccan styled tiles to achieve this week's look.

Get the magazine look!  To achieve this look, I used our hexagon patterned tiles and paired it with a dark grey handmade tile for the flooring.  For the walls I used a white gloss textured square tile.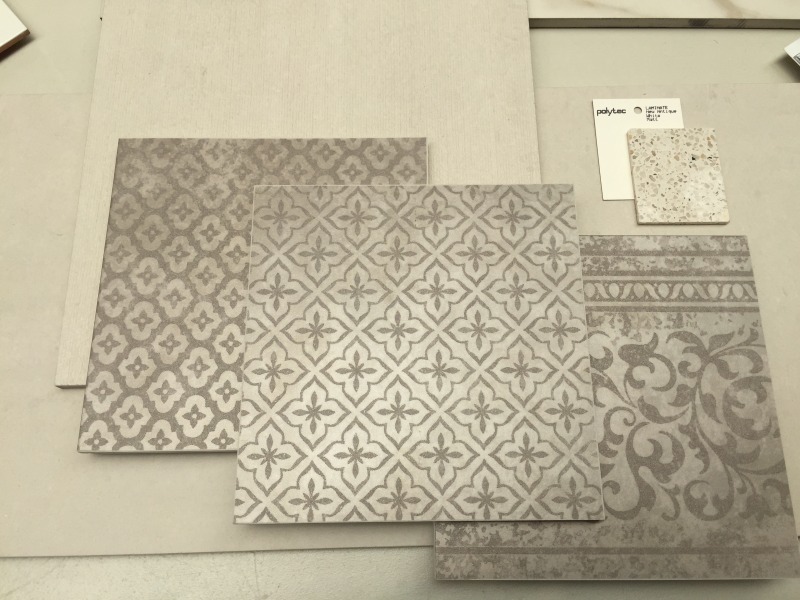 If you love beige, this is the look for you!  Using beige honed tiles for the floors and a textured beige tile for the walls, all to compliment these sparkled Moroccan styled mixed pattern square tiles.  These can be used as a feature wall or splashback!

For this look I would definitely try to add a French styled freestanding bath or elegant cabinetry (as below).  These are just the base of the structure, adding the accent pieces would really bring this look together.  I would put the patterned tiles on the floor and the square white gloss tiles as the wall tiles.


Another hexagonal shaped tile with a Moroccan feel.  I paired this floor tile with handmade white gloss subway tiles.  Using handmade tiles really gives you the French AND Moroccan look.

If you're going for a simple elegant look, this one is perfect for you.  Using a marble or ceramic marble look tile for the floors and a white Moroccan patterned tile for a feature wall or continue on all walls.
The French and Moroccan style can be so easily achieved, keep it simple and add a pop of colourful pattern!  Get this look at TILE junket and see our display this week!
By Tracy Caporusso
[jetpack_subscription_form title="Subscribed Yet?  Do it! It makes finding tiles Easy!" subscribe_text="Get blog updates in your inbox – unsubscribe when you no longer need them" subscribe_button="Yes Send Me Updates!"]
TILE junket showcase the best tiles available in Australia from around the globe, right here in Geelong.  Book your showroom complimentary Concept Consult for interior design assistance for your tile project.
For more interior design services, Tracy Caporusso consults from her own business In Home Designs and will come to you.