Bluestone is a durable and versatile natural stone suitable for all projects including highly customised jobs. TILE junket has got the goods when it comes to Bluestone, here's what you need to know…
About Bluestone
Bluestone tiles and pavers are volcanic stones formed from cooling lava and hardened over millions of years.  Bluestone is extremely dense and durable, suitable for indoor and outdoor applications whether is be a small patio, expansive architectural build, pool or feature wall.

Above:  Make your home feel more expansive with bluestone bringing inside out, photo via Pinterest
Bluestone Finishes
Whether you want contemporary sleek style or rustic charm, there is a bluestone finish to suit you:
Honed
Sawn
Sandblasted
Flamed
Polished
Chiseled (lined effect)
Shot blasted
Splitfaced
Bluestone is scratch resistant making it a versatile and practical material for your space.

Above:  Sawn Bluestone, image via Pinterest

Above:  Honed bluestone creates a smooth non-porous surface, perfect for bathrooms, image via Pinterest
Where to use Bluestone?
Everywhere – indoors and out:  Floors, walls, benchtops, pools, house facades, landscaping, bathrooms, kitchens, living – where there is a will, there is a way with bluestone.  Sealing your bluestone will make it resistant to stains and spills, it will also protect your natural stone from ageing and fading.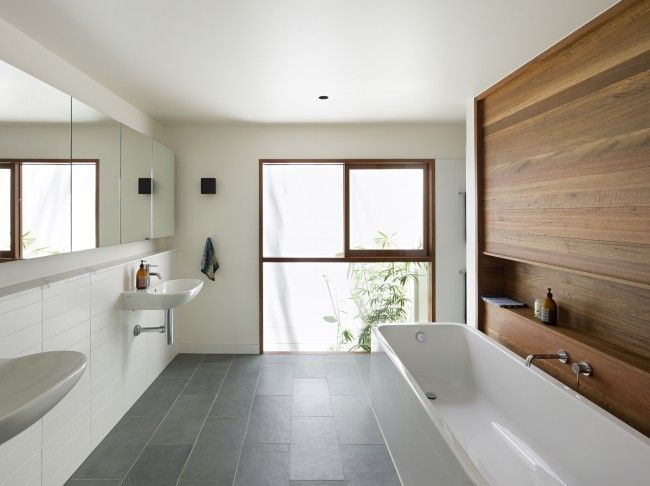 Above:  Bluestone bathroom floor, image via Pinterest
Bluestone can be used in historic and heritage renovations creating a cohesive look  from old to new.

Above:  Image via Pinterest
Bluestone pool coping, surrounds and pavers are highly sought after for it's durability, non-slip and anti glare characteristics.

Above:  Bluestone terrace & pool, image via Pinterest

Above:  Bluestone pool, image via Pinterest
Picture this…
Bluestone steppers with planting between the stones, a sawn surface paver externally under foot ensuring slip resistance by the pool side, then continue the same format bluestone tile inside the home in a honed finish.  It's a great way to create continuity indoors and out.

Above:  Use bluestone inside and out for a seamless continuity, image via Pinterest
For interesting, unique visual displays use bluestone crazy pave products, stack stone and geometric formats on facades and feature walls. Fire place and oven surrounds are another effective way to incorporate natural bluestone into your home.

Above:  Crazy pave bluestone floor, image via Pinterest

Above:  Bluestone cladding, image via Pinterest
The natural beauty and colour of quality bluestone is undoubtedly an asset to any home.  An incredible feel and timeless appeal will have you admiring it for years to come.
By Hayley Norman
[jetpack_subscription_form title="Subscribed Yet?  Do it! It makes finding tiles Easy!" subscribe_text="Get blog updates in your inbox – unsubscribe when you no longer need them" subscribe_button="Yes Send Me Updates!"]
TILE junket showcases the best range of Bluestone, Sandstone, Granite, Limestone, Travertine, Marble, Slate, Reconstituted, Cladding, Facades, Bull Nose Surrounds and more in Geelong.  Want Interior Designer assistance with your project?  Book your complimentary CONCEPT CONSULT appointment today.  No obligations, just great service, products and concepts to suit you.