No matter the size your outdoors, it's a space within your home you can capitalize on adding dollar value & lifestyle appeal to your property.
Embrace the Aussie lifestyle and start planning some of these ideas for your outdoors.
It's Spring, nearly Summer, BBQ's are fired up from their winter hibernation and the smell of fresh cut lawns are in the air.
Aussies love outdoor entertaining.  It's the epitome of the Australian dream; friends and family coming together to share food, fun and laughter (and maybe some cheeky beverages).
Here are some inspiring and creative ways to give your outdoor entertaining space the wow factor.
Outdoor kitchen
An outdoor kitchen can be a simplistic construction or an elaborate one.

Above:  Photo via Pinterest
Some may require a food prep area and spot to house the BBQ.  Whilst others may have on their wish list the full shebang; a sink, pizza oven, bar fridge and so on.  Be as creative or elaborate as you desire, or what your budget allows; either way your outdoor kitchen is sure to be an asset when entertaining.

Above:  Photo via Pinterest
Want something different – give your area personality with a tiled splashback using mosaics, patterned or colourful tiles.  Or continue the natural elements of the outdoors using stone.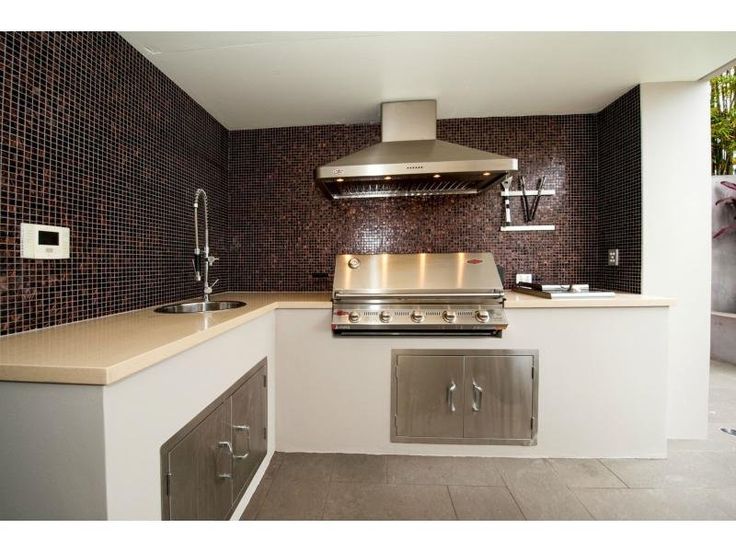 Above:  Mosaic splashback, photo via Pinterest

Above:  Tiled splashback, photo via Pinterest
Outdoor Flooring
Love the effect of decking, but prefer to be enjoying it rather than maintaining it?  Tile your outdoors with ceramic timber look tiles. With a vast array of styles and the look of authenticity, create the style you want whether it is a weathered reclaimed timber look, merbau, blackbutt or even a graphic coloured wood.  Many timber tiles replicate the textures and variations in natural timber with minimal to no repeated patterns.

TIP: Use the same timber look tile inside to create a seamless flow from inside to out, resulting in the illusion of a larger space.

Above:  Photo via Pinterest, see more ceramic timber look tiles here.
Built in Bench Seating
When entertaining, you want guests to be comfortable and that includes plenty of seating.  Built in bench seating can be constructed in a combination of materials, some including stone, hardwood, brick and concrete. Use rendering or tiles to add colour to the finish.

Above:  Photo via Pinterest

Above:  Photo via Pinterest
Bench seating can also be integrated into retaining walls or raised garden beds; mixing hardscaping with softscaping provides a balance to your space.  Be multi-functional and incorporate storage into your bench seating where outdoor throw cushions can be stored and easily accessed when visitors arrive.

Above:  Photo via Pinterest
Fire Pit
A fire pit is a great novelty in any backyard when entertaining – keep cozy when the sun sets, toast marshmallows with the kids, sit back with a glass of red and enjoy the ambiance.

Above:  Photo via Pinterest

Above:  Photo via Pinterest
Outdoor bar
With an outdoor bar, you may truly now be the place all your friends want to congregate on Saturday night – well that may also depend on who's supplying the drinks.

Above:  Photo via Pinterest
There are many innovative ways to create an outdoor bar to suit your style and budget.  Build a freestanding or wall mounted bar, or if your budget permits, install a bi-folding window with servery mixing inside with out.

Above:  Photo via Pinterest
Implementing one or all of these ideas will have you and your guests enjoying your outdoors for hours, days and nights to come. These days, functional and multi-purpose outdoor areas are an integral part to home design and should not be overlooked.  Make good use of your livable outdoor space and reap the ongoing rewards.  Happy planning and be inspired on Pinterest.
By Hayley Norman
[jetpack_subscription_form title="Subscribed Yet?  Do it! It makes finding tiles Easy!" subscribe_text="Get blog updates in your inbox – unsubscribe when you no longer need them" subscribe_button="Yes Send Me Updates!"]
Visit the TILE junket showroom for the largest range of stone in Geelong.  Need help with planning your project and tile selection?  Book a complimentary CONCEPT CONSULT with our Design Team for winning results.